On Wednesday, January 26, 2011, UGA – Georgia Sea Grant hosted a unique Symposium on the Gulf Oil Spill called Building Bridges in Crisis. The goal was to bring together members of the Scientific community, Government, Media, BP, and representatives from local sectors impacted in an effort to openly discuss the oil spill response and how the aforementioned groups can work together more effectively in times of crisis.  There was certainly a good amount of debate and frank discussion, which was clearly needed in order to make progress so that the next crisis can be more effectively coordinated.

One of the key takeaways was that despite the fact that we might not see stories of the oil spill in the media much anymore, the event itself is most certainly not over.  There is considerable impact to the system that is being analyzed now in an attempt to determine what potential long-term implications may exist for the food web, the water, and even public health.  As Dr. Samantha Joye noted, 'This oil spill is not over. It will be decades, I think, until we really understand the true impacts of the spill on the system.'
Highlights from the Symposium can be viewed in the video below (if you can't see the video, click here)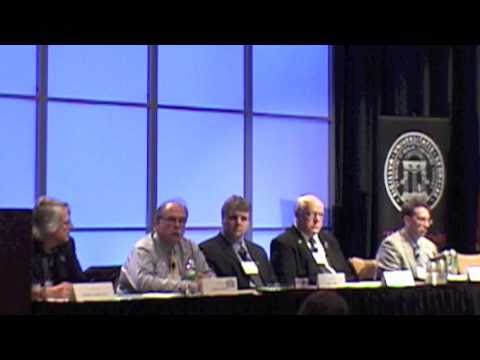 Another clear theme was the fact that there was tremendous impact on the people of the Gulf Coast both economically and emotionally.  The closure of the fisheries and the overall national attitude toward Gulf seafood and recreation has taken a tremendous toll on local businesses that rely on the confidence of visitors and seafood consumers for their livelihood. As Herb Malone, Executive Director of Tourism for Gulf Shores and Orange Beach reminded us, 'This happened to us at the worst time of the year, on the eve of our high season' and LaDon Swann from the Mississippi-Alabama Sea Grant Consortium stated 'My number one concern is that great damage to the human side of the equation is going to be forgotten in the long term.'
There was also much discussion on the impact the media had on the situation and how the constant barrage of news reports affected the region's tourism industry. And social media wasn't immune to criticism either.  Interestingly, although there were many comments about the adverse impact of speculation and misinformation that were present in various social media channels, representatives from the US Coast Guard and NOAA were upbeat about its potential to help get information out to the public.  Both the USCG and NOAA utilized the web to communicate important information throughout this event. Click here for a short video where they describe how they used social media during the spill.
More videos can be found on our YouTube channel, including a deeper look at the Scientific discussion and an interview with Dr. Samantha Joye. For my recap of Sylvia Earle's Keynote speech on Tuesday 1.25.11, click here.
Photo: Scientific Synergies Panel